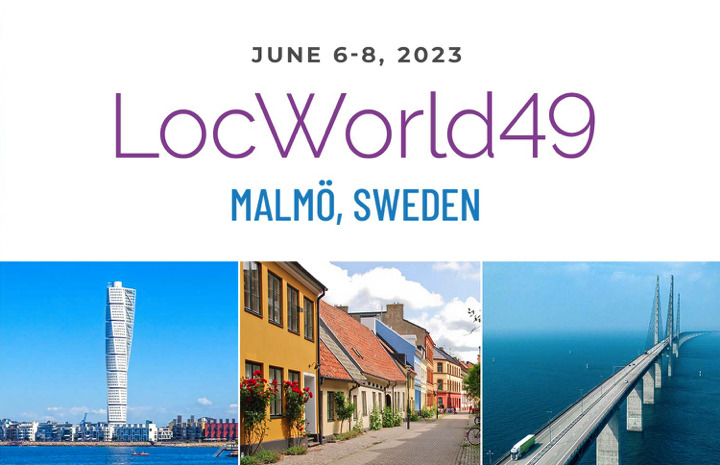 #Locworld49 in Malmo is a big success! 
This year's European segment of the pivotal localization event underscores two key trends: large language model adoption and fully automated translation without a human in the loop, the industry's endgame.
On the LLM side, the initial hype has quieted down, paving the way for actual work. Translation Management Systems (TMS) have swiftly integrated OpenAI, while reactions among Language Service Providers (LSPs) and buy-side are mixed. Some show enthusiastic support, while others declare "ChatGPT shalt not pass" due to privacy considerations.
The variety of LLMs was missing – while technology enthusiasts engaged in debates about the merits of Alpaca, ChatGPT, Claude, and Hugging Chat, localization peers were dealing with a more fundamental question: "Should we embrace GPT, or not? What about DeepL?" Fun fact:: DeepL's workforce now exceeds 700 employees, which is more than OpenAI's team.
Launch of Multilingual Content Generation
Companies including EasyTranslate, Lionbridge, Welocalize, Translated, and Lengoo unveiled new service lines that streamline the content creation process. Instead of employing a two-step approach involving writers and translators, these companies now offer to post-edit generated text directly in target languages. This innovation could potentially cut costs by up to 40%. The question remains, though: will it prove effective in practice?
AI-Replaced Translation Editors
Intento showcased the power of GPT-4 in correcting translation errors, and Unbabel revealed a new generation of automated translation quality estimation models. In both instances, ChatGPT has proven to be a helpful tool.
PIC#14 finalist' highlights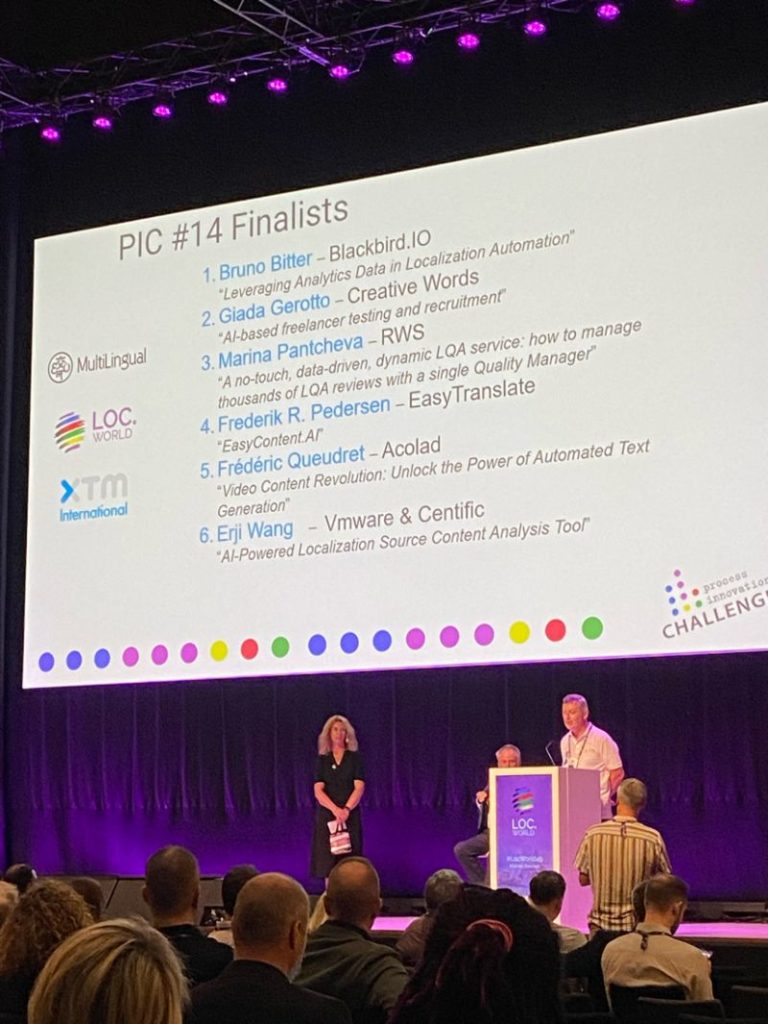 For those who don't know, the Process Innovation challenge (PIC) is a place for creative solutions, improved workflows, and cutting-edge technology applications. And this year, PIC received an overwhelming response from numerous innovators submitting their groundbreaking ideas. Here are some most interesting of them
Automated Translator Testing:
Creative Words and RWS introduced automated vendor testing and LQA. Giada Gerotto delegated checking incoming translators to pre-made test sets and BERTScore, while Marina (RWS) dazzled the audience with a proprietary platform shined to a real corporate polish.
Video Summarization
Frédéric Queudret (Acolad) has presented an innovative tool designed to distill lengthy news broadcasts into concise paragraphs. Interestingly, it can also be used to condense a 2-hour Zoom meeting into a 5-sentence summary. A clever combination of Whisper and ChatGPT, perhaps soon to be copied by competitors!
Source content analysis
Erji Wang (VMware) and Won Seog Chung has presented an AI-powered localization source content analysis tool that determines if the text is formal or informal, and which domain it belongs to. Inconspicuous tech with many potential engineering use cases.
I heard three times that IT teams inside buy-side organizations are beginning to take over GPTs and LLMs. Even machine translation. This generates a risk for localization teams – they may become obsolete or be perceived as such. Don't give away your chance!
Konstantin Dranch,
CEO&Founder, Custom MT