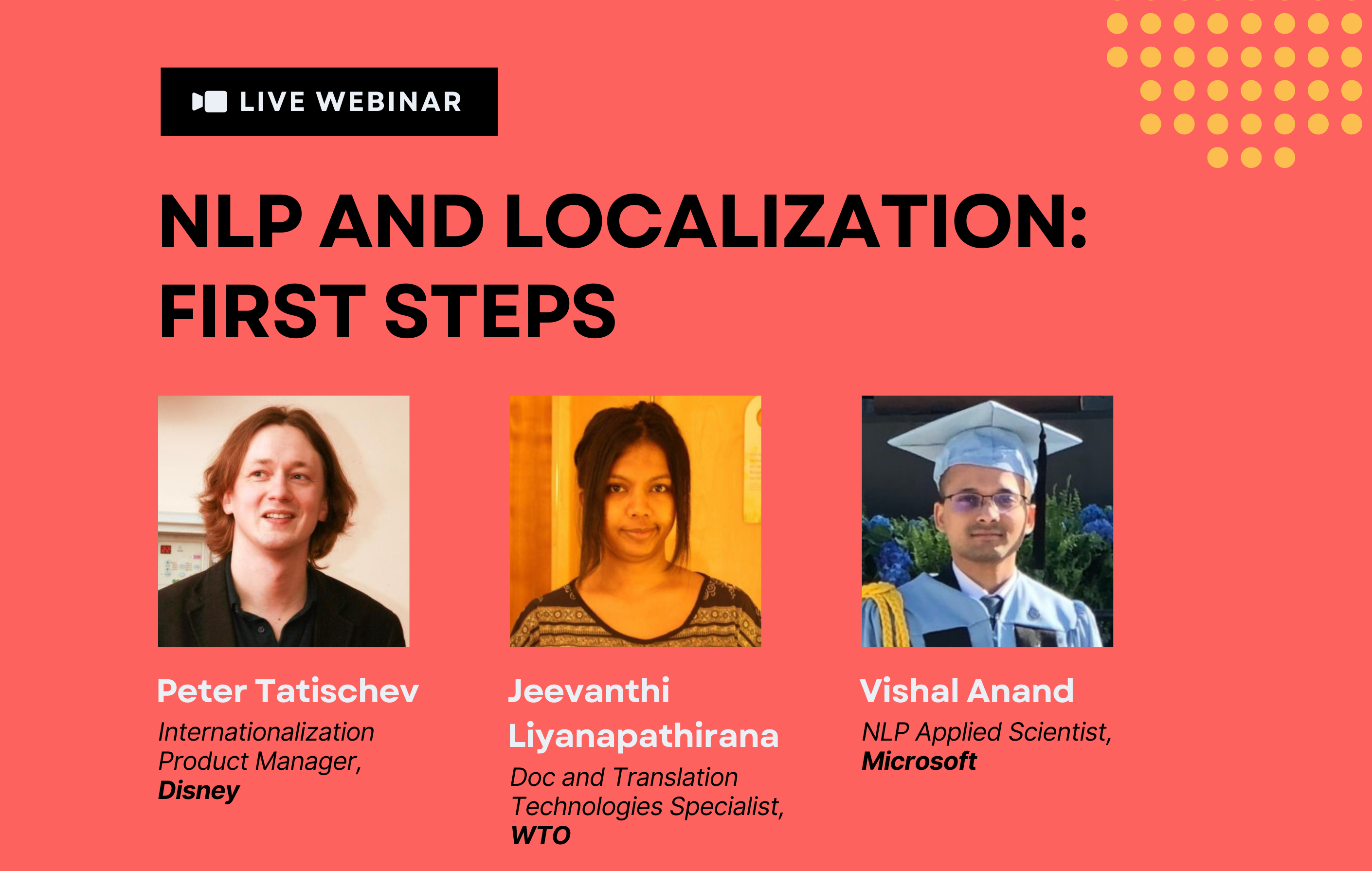 Use cases for NLP in localization are few and far between, but industry experts are optimistic about the opportunities in store for the growth of the localization space.
On June 24, 2022, we held a webinar exploring the state of natural language processing in localization. We invited over tech specialists for an insightful discussion on the opportunities of adopting NLP tools for quality localized content.
Kate Gladyo, resident IUX Solution Designer at Custom.MT, leads the discussion with our three keynote speakers of the day: Peter Tatischev (Internationalization Product Manager, Disney), Jeevanthi Liyanapathirana (Documents and Translation Technologies Specialist, World Trade Organization), and Vishal Anand (Applied Scientist, Microsoft). We sat down with our guests to talk about the best approach for businesses to utilize NLP and boost user experience on an international scale.
Kate begins the webinar with a quick overview of her research on the use cases of NLP and localization. After interviewing localization leaders from 15 large companies, Kate noted the most common NLP use cases:
Neural machine translation
Multilingual chatbots
Multilingual content creation
Product perception monitoring
Semantic search, text mining, and others
Neural machine translation is the most widely used NLP use case, followed by the popularity of automated chatbots. On the other hand, semantic search has yet to be adopted.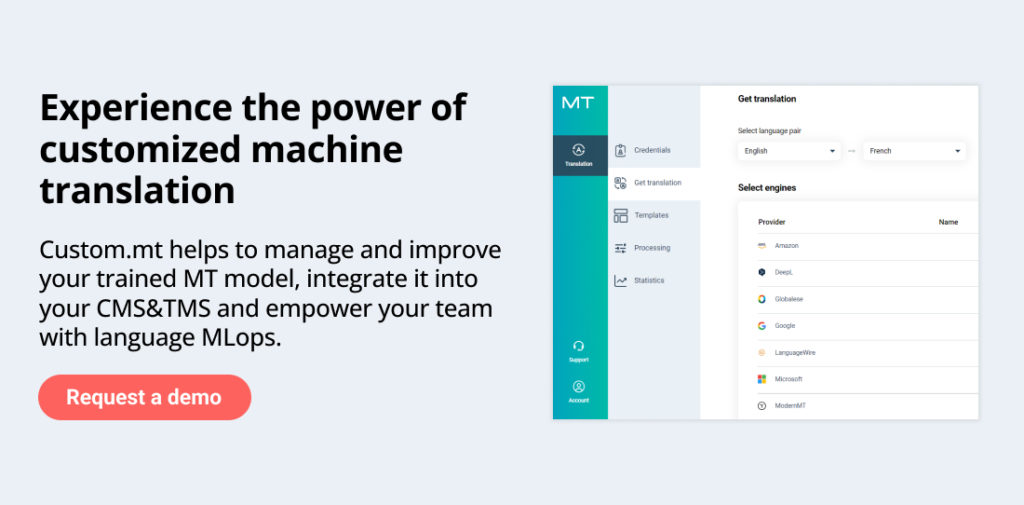 State of the Localization Industry
Peter walks us through the challenges of the localization space and NLP adoption. Outside big tech, innovation is limited, as it is more of an operational feature integrated into the business workflow.
". . .NLP is an option for very mature localization orgs, basically when you've exhausted all ways of improving your processes," Peter explains.
NLP and the Overlap with Localization
At the WTO, Jeevanthi and her peers adopt NLP technology to enhance localization. They train machine translation engines and speech-to-text engines and implement content management and termbase management, among others, to leverage processes in managing databases.
"Human oversight is still needed", Jeevanthi emphasizes. NLP technology can't feed itself with the essential information to deliver localized content. A language used by a minority group, for instance, is challenging to encounter online. Thus, tech specialists have to manually input information for the NLP tool to learn the language.
For Vishal, the era of NLP technology for business empowerment is now. A multilingual semantic search is an excellent tool that Vishal and his co-authors worked on. By adopting this use case, AI is capable of making better word choices and sentence structure for a more natural localization.
The Best First Step to Upgrade Your NLP Game
As the webinar nears a conclusion, the question, "Which first steps can the localization space take in exploring NLP?" comes up. Our guest speakers collectively agree that machine translation is the ideal first step. Translation technology yields immediate results and boosts productivity. Your company's NLP unit can proceed with manual post-editing, as semantic search has yet to see mainstream adoption.
Finally, as a localization team, you can collaborate with other units within your company that already implement machine learning solutions. For example, you could offer custom machine translation models for chatbot development.