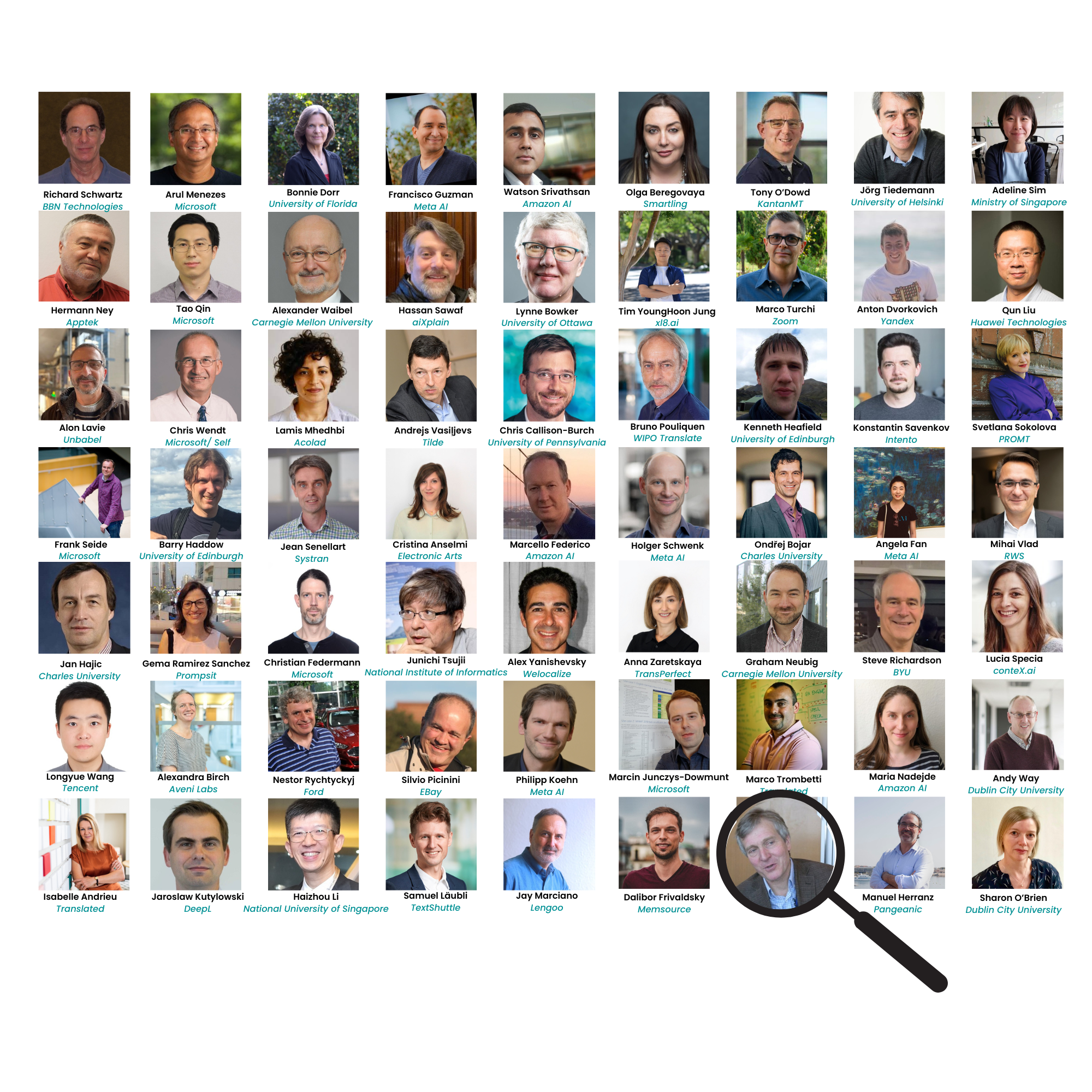 Machine Translation Leaders Archive
Machine translation is an important field that connects humans across the planet, giving each person unprecedented access to information. Yet very little is published about the people who drive the industry forward. Starting out in MT, we realized that neither the business nor the scientific communities have a clear vision of who the movers and shakers in the industry are today.
To establish references for new entrants like us and for students, Custom.MT started developing the list of leaders in machine translation using an expert panel, references, and the Google Scholar citation index. The list is open and regularly updated, and you can suggest personas. Our criteria are simple: the person influences the industry through important projects and publications, and their work impacts many other people.
The MT Leader Archive gives you a brief description and links to the social pages of machine translation leaders and people who are instrumental in the implementation of Machine Translation. It features researchers, professors, and experts who have greatly influenced the technological achievements of machine translation we are witnessing today, from the blossoming of the industry to the more modern ones. The people included in this list dedicated their work and study to machine translation, neural language processing, the development of evaluation metrics, but not only. We found it particularly important to include those professionals who come from enterprises, governmental bodies, and institutions who implemented machine translation on their side and are helping and cooperating to its development.
Follow these people to stay up-to-date to the latest trends and follow their insights to further the exchange of information.
From Arul Menezes, Head of Microsoft Translation to Anna Zaretskaya, Director of MT Strategy at TransPerfect and Tony O'Dowd, Founder and Principal Architect of Kantan.MT, the Archive gives you an overview of the greatest mind behind the big tech and technology providers that populate the MT landscape today.
The archive includes names of leaders from the academic and government institutions, such as Alex Waibel of Carnegie Mellon University, Bonnie Dorr of University of Florida, and Steve Richardson, current President of Association of Machine Translation in the Americas and Associate Professor at BYU.
We filled up a list of more than a hundred people from both language service providers and buyers and double-checked their backgrounds thanks to the help of experts in the sector. Among those names, we only selected professionals who we believe have made, and are making, an impact in machine translation, from researchers to LSP founders and professors.
We took great care in filling a list of outstanding people who can serve as inspirations and mentors in your growth journey in the MT industry. Head on over to the Machine Translation Leaders Archive page to learn from the industry leaders themselves.
Do you have any suggestions or think we need to update some info? Please contact silvia@custom.mt