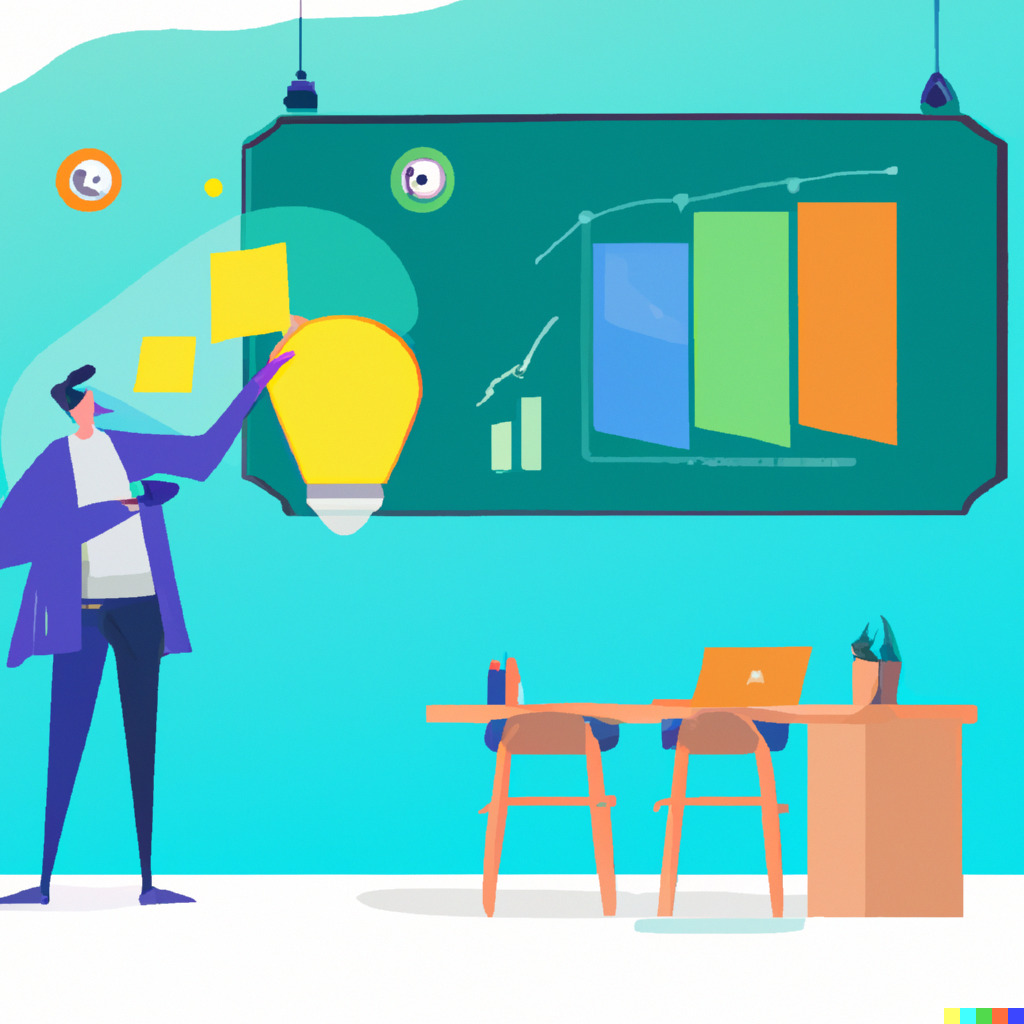 The year starts with two major trends: a boom in AI, and a dim economic outlook. To stay relevant in a world where globalization processes are slowing down, and machines are becoming more adept at language tasks, localization teams need to reinvent themselves once more. We present a collection of specific ideas that respond to market trends and advances in technology.
1. Roadmap for Large Language Models
ChatGPT is just the beginning. Google is planning to counter OpenAI with Deepmind's Sparrow, China has had a larger model called Wu Daio 2.0 since May last year, and Inception Institute for Artificial Intelligence (IIAI) in Abu Dhabi released the largest Arabic GPT in January 2023. The race is on. 
While countries and tech giants battle each other for language model dominance, mere mortals in the real economy will race to figure out how to apply these models efficiently. Localization departments possess insider information about their business' multilingual needs, from personalized education to insurance claims summary. So they are in a position to take on the "internal product owner" role for large language models.
References:
GPT3 demo – a map of use cases
Timeline – models being released
NLP use cases – 30 ideas on implementing LLMs
2. Expand into Authoring & Global Content
Authoring is where the revolution is happening due to the popularity of ChatGPT, and localization leaders have an opportunity to add this growing area to their portfolio. Today's savvy writers create text drafts with prompts, then get them fact-checked and polished stylistically. Or, they use GPT to rewrite drafts and improve the readability score.
Start a structured program to adopt GPT writing in your business: 
Mass-produce content for SEO
Automate technical writing of manuals, medical reports, legal contracts, protocols, and statements 
Create personalized story reports for clients and application users
Generate meeting summaries
References:
Business writing assistants – tools to augment authoring
ChatGPT in medical writing – applied experiment
AI in Content Marketing – how to use generative NNs in SEO
3. Start on Language AI Ethics & Governance
Today's AI is full of biases inherited from the Internet data used to train it, and it needs to be cleaned up and improved over the next 5-7 years. This is an emerging governance area, relevant to all organizations, from Microsoft to the Vatican. 
Is a bank communicating with its clients in a respectful and friendly way, or is it offending customers and misusing their data, opening the way for potential lawsuits? Does an online store have a compliant and safe product catalog and a review base? Can a voicebot in a telecom call center be posing risks for the mobile operator? 
References:
Fairslator.com – a tool to identify bias in machine translation
Amazon MT-GenEval – dataset for gender bias detection
Translated Wikipedia Biographies – dataset for gender agreement
Microsoft's Responsible AI principles – guidance material
4. Video: Build Automated Subtitling and Dubbing
In the past year, automated subtitling systems grew in quality, and automated dubbing systems made their first real contact with the market. Content archive holders like Phillips, Siemens, TED, and Adobe have used automated video localization technology in the past year with success, and it's time to put it to work on all your video archives.
Video localization technology spans over 100 different tools and services. Consumer tools are easy to learn but do not have many features for professional quality assurance. Business tools include workflow components and APIs to be able to process hundreds of videos in a structured way. Professional video localization platforms include heavy-duty customization options to be able to adhere to the strict guidelines of Hollywood studios, streamers, and broadcasters.
References:
A list of video localization tools grouped into consumer, business, and professional
Microsoft AI voice generator – for example voice workbench
5. Optimize Budgets with Machine Translation
The World's economic growth is slowing down from 6% to just 2.7% (IMF), and investment in tech has dropped by half. Organizations are putting their investments on hold, and are pressuring operations to reduce costs and reduce staff headcount. Localization teams may protect themselves by showing efficiencies. It has become easier to convince your internal stakeholders to switch to machine translation.
Move forums, blogs, and catalog content to MT
Where the translation does not carry health or legal hazards and does not penalize your website's ranking in Google search, you have the option to MT it, preferably with a disclaimer. Automated translation and the human-reviewed translation may be combined efficiently on the same website page, as demonstrated by the travel portal Klook.
Optimize with post-editing
After introducing MT in the translation process, it's reasonable to apply a discount to sentences that have no match in the translation memory. Targeting fuzzy matches of under 85% or even 95% with a 15-50% price reduction, depending on MT accuracy may save a significant amount.
References:
How to Optimize Translation Spend with MT – explains how post-editing metrics become discounts
Freelancer marketplace with listed rates for translation and MT review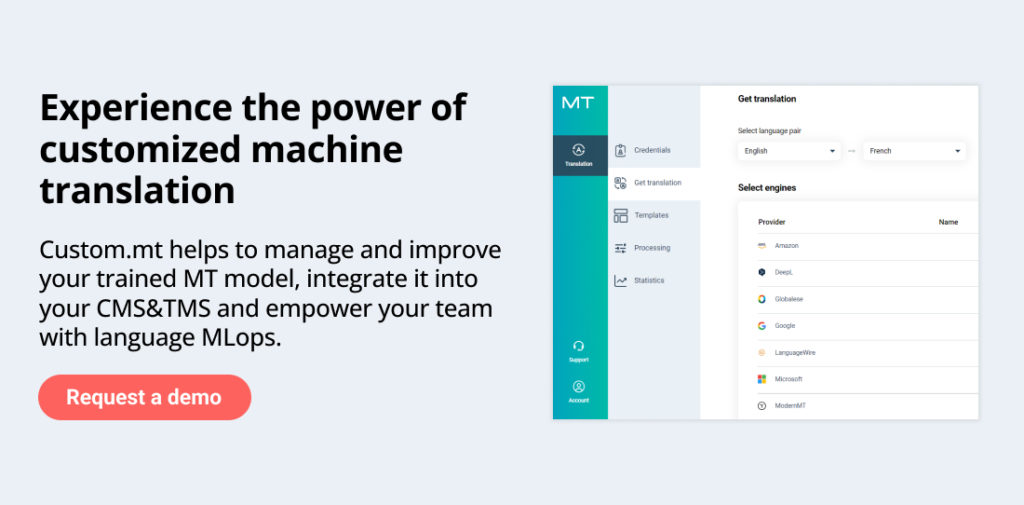 6. Reduce MT risks with Predictive Scoring
With the increased usage of machine translation, there is a temptation for organizations to completely bypass translation and localization groups. If 99% of the text is translated by systems such as Google and DeepL, is there a need for a human team in the same area?
Savvy localization leaders counter that by designing a machine translation pipeline that predicts and reduces risks and provides additional intelligence on top of regular machine translation systems. They centralize machine translation usage in the organization and become the custodians of its quality and optimization. 
Here are some of the ways of building on top of machine translation:
Predictive scoring to identify sentences poorly translated
Automated post-editing neural networks that post-process machine translation and improve it.
Risk prediction to detect sentences that carry health, compliance, and legal hazards
The area of scoring and automatically post-editing is new and evolving, and there are 3-7 years of innovation to accomplish it fully matures. Your organization may become an innovator in this field.
References:
Overview of quality estimation in MT
7. Reprioritize Languages
The purchasing power of groups of people speaking specific languages is being redistributed fast. Add to localization the languages of nations where the economic boom is happening and barriers to doing business are being lifted.
The war in Ukraine and other geopolitical crises have sharply altered the cost of life and effective income in many countries, decreasing the potential for new business. 
Venture investment created rising star innovation & startup hubs in surprising locations (think Bogota, Bengaluru, Delhi, Chennai, Curitiba, Riadh).
References:
International Monetary Fund – country data on GDP growth rates
Tech Ecosystems by Dealroom – cities with emerging unicorns
T-Index – world's purchasing power sliced by language
8. Design Localization ROI with Google Analytics 4
Google Analytics will sunset on the 1st of July, 2023. All websites that rely on GA to get information about traffic, visitors, and conversions will have to move to another platform, either Google Analytics 4, or, because it is relatively new, marketers might consider different brands. The inevitable moment of transition creates an opportunity for localization directors to negotiate access to traffic data, and to create a set of metrics that track the company's online presence by language and country. With a constant flow of figures from the website, it's possible to design a return on investment (ROI) or a total economic impact (TEI) equation and in-country user experience (ICUX) metrics. Tracking all of these will increase the relevance and influence of the localization group.
References:
9. Foster Inclusive Language
Inclusivity in language is a growing trend. In late 2020, Red Hat, Akamai, Cisco, the Linux Foundation, and others joined forces to form the Inclusive Naming Initiative. To give an example of the work, Red Hat replaced blacklist with block list, and master/slave drives with primary and secondary drives. The new generation of IT specialists working with Red Hat software no longer think in terms of "enslaving" one system to another.
 Inclusive language initiative comprises creating guidelines, running workshops, scanning and updating the organization's content databases, and making sure that the AI models for text comply with the guidelines.
Taking inclusive language under your umbrella in the localization group can create influence, horizontal connections, and an application area for several people on your team. 
References:
Inclusive language resources – an exhaustive list 
10. Hire NLP People on Your Language Team
Just like many translation companies hired developers, and became software companies, localization teams on the buyer side see the same need. Code internationalization and scripting for tag handling have been a need for 20 years, and they are still here. The new wave of technology requires expertise in building AI models, connecting them to production systems, working with training data, and explaining these processes to stakeholders on all levels.
Localization teams in 2010es consisted of project managers and language experts. Localization teams looking forward will have fewer project managers and linguists. On the other hand, there will be more developers, data scientists, and skilled communicators versed in AI. 
The mission of this emerging type of department is to apply language AI, and build automated platforms. Localization's goal of breaking language barriers and connecting with the world remains the same. The means are changing.
Which of the ideas would you like to implement in 2023?
Discuss this below.